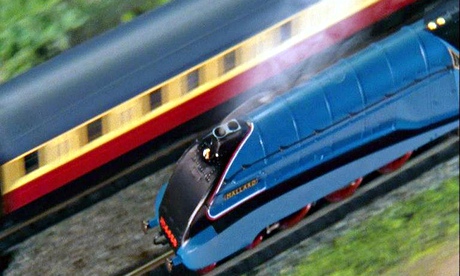 An article in today's Guardian features Thanet based business Hornby moving out of its base of 60 years and follows on with the woeful news about the struggling Margate economy.

You might be interested to know that senior executives of Hornby take up places on the boards of both
Thanet Regeneration Board
(you have to actually click on
Frank Martin's
name to reveal he's from Hornby) and the Destination Management Plan Steering Group (
Nick Cole representing the Thanet Business Group is Vice Chairman
).

Now we hear Hornby are upping sticks out of Thanet completely [edited to add: the Guardian article states they may keep their visitor centre in Margate], just as Thanet District Council release their
draft Local Plan
which earmarks large scale development and expansion of the Westwood Ward. That's Westwood Cross, folks with infill of housing all around it on empty brownfield sites on all sides, and includes land that was once prime agricultural and ended up as
EKO
.

The Financial Times reports that Hornby:
"announced an annual pre-tax loss of
£4.6m
and renegotiated its debt. Two months earlier, it issued its
third profit warning
in less than two years following prolonged problems with a Chinese supplier and adverse foreign exchange movements."

Do we need this kind of regeneration advice for Thanet?

There are no small business reps on the Thanet Regeneration Board. Why? I've asked and have never been given an answer.

So, here's to another positive piece in the national media about Margate struggling, when in reality, there are many small businesses collectively expanding.

The times they are a changing.