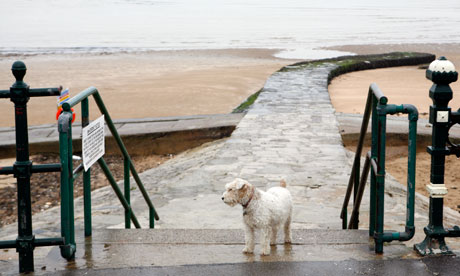 After reading miserable
Tom Dyckhoff's
miserable article on a miserable Margate, I thought I'd have think about moving here from somewhere else. Tom's article had me rolling my eyes at the banality and narrowmindedness. Clear that he came here grudgingly anyway. Unlucky for Margate that he reviewed the town on a Sunday afternoon in early Jan. Everyone knows that loads of seaside town businesses close briefly to take a break in Jan and get on with some admin in preparation for the upcoming spring. Sounds like he didn't really get further than a walk down the seafront, right into the Old Town to a cafe and then some research on property prices on Right Move on the laptop.
But in any case, there are lots of reasons why even in a bitter cold January, Margate still has some pleasant surprises up its sleeve. And besides, is he supposed to be writing as a tourist or as a resident?
As a tourist, there are windswept clean sandy beaches all to yourself. Lovely places to eat. Antique shops to wander around.
As a resident, well, this is where I can share my experience. I have a lovely network of friends, stress free compared to London life, dinners out, vintage shops to rummage through, amazing countryside to walk the dog in, fresh air to breathe, amazing Georgian architecture to enjoy, time to think. So, fuck you, Mr Dyckhoff. Not that I want to be the usual local who moans about a review of the town they live in. But really, was that the best you can do?
As for your tip on property prices. I don't know many houses with a paddock on Margate. Perhaps it wasn't in Margate at all. And those prices seem way out of line. Everyone knows that in Margate a five storey Georgian town house can go for as little as £100k! I don't know where these 6-8 bedroom places are for £800k! Buildings in Margate Old Town sold recently for £50k and £80k. A flat on Hawley Square sold in the summer for £26K!!!